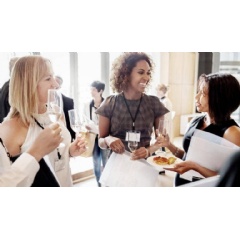 As the nation continues to adjust to 'freedom' after a return to life without restrictions, new research from Barclays reveals what financial freedom really looks like.Being debt free (48 per cent), paying off the mortgage (43 per cent) and confidently covering unexpected costs (41 per cent) topped the list of what's deemed to be markers of financial freedom. For just under one in 10; however, they'd like nothing more than being able to buy their team's new football shirt as soon as it comes out.
While the routes to achieving financial freedom varied, the survey found that only 39 per cent of Brits would describe themselves as being 'financially free' right now, with the average adult thinking they are nearly 12 years away from reaching that goal.
One in four adults worry they aren't saving enough every month to reach their financial targets, with some suspecting that they'd need to earn just under £60,000 a year to avoid worrying about money all together.
Clare Francis, Director of Savings and Investments at Barclays, said, "It's easy to think that being financially free is a long term goal that can only be achieved through big financial milestones so it's unsurprising the research showed that over half of adults feel like they won't ever reach a state of financial freedom.
"However, when you look at the top things people are aiming for, these are sentiments we can help people to master right now so they can enjoy their day-to-day lives feeling free in every sense of the word."
Indeed, according to two thirds (66 per cent), financial freedom isn't about reaching all their monetary goals, it's more about feeling in control of their finances day-to-day. Saving more money each month (34 per cent), not comparing their financial situation to anyone else's (21 per cent), and having clear financial goals to aim for (19 per cent) were some of the most popular ways to feel financially free.
Top 10 ways Brits define financial freedom
1. Having no debt
2. Mortgage is paid off
3. Being confident that I can cover any unexpected costs
4. Feeling in control of my finances
5. Saving money each month
6. Having disposable income available at the end of the month
7. Paying off all bills in full each month
8. Having rainy day savings set aside
9. Not worrying about when payday is
10. Paying for things without needing to check my bank balance first
When asked what would help them feel financially free, those aged 45-54 said stopping full time work (37 per cent) and being on track for early retirement (32 per cent). Whilst those aged 25-34 cited having disposable income at the end of the month (38 per cent), paying off all bills in full each month (38 per cent) and being able to treat themselves without worrying about their balance (29 per cent).
By contrast, for those aged 18-24 the focus was on not being afraid to check their bank balance (29 per cent) and saving more money each month (30 per cent).
Clare continues, "By making the most of the tools available, from setting a savings goal to help you build up that rainy day buffer, to using spending insights in your app to help you stay on top of where your money is going and what you have available to spend, you can take steps to make money work for you."
The data also reveals that people in the south west of England were the most likely to describe themselves as having a sense of financial freedom (47 per cent), closely followed by those in Wales (45 per cent) and those residing in Yorkshire (42 per cent).
To help people make the most of freedom in every sense of the word, experts at Barclays have produced guidance to help the nation achieve their version of financial freedom:
For those who want to liberate themselves from debt, Clare Francis, Director of Savings and Investments, recommends that you should have a clear and realistic plan.
Before you start paying off your debt, take a step back and figure out how much you owe overall, when you would ideally like to have this paid off by and how much you can afford to pay back each month. It is important to be realistic about this last point as being able to stick to it each month means you will have a clear end point in sight, even if it is some way away. This sense of being on top of your finances can give you a psychological boost, so having a plan and sticking to it can help you feel more in control of your money and financially free. It can be daunting figuring this out alone, but a free session with a Barclays Money Mentor can give you the impartial guidance you need to get on the right track. Once you get started you'll be closer to your goal than you expected!
If you are dreaming of a mortgage-free life, Matt Bond, Head of Customer Strategy at Barclays Mortgages suggests some savvy steps to help yourself get there that little bit faster.
If you're a homeowner, you could achieve your goal of being mortgage-free sooner than you expect by using monthly disposable income, or extra cash from a pay rise or a bonus, to reduce your mortgage balance faster, enabling you to make some significant savings in the amount of interest you pay over the long-term. Many mortgage lenders allow you to make overpayments each year without penalty, but you'd need to check with your lender as product terms can vary.
 If you want a rainy day saving fund that could sustain you in a monsoon. Zainab Kwaw-Swanzy, money management specialist says remember that slow and steady wins the race.
Having a full sense of financial freedom may not be attainable overnight, particularly when it comes to aspects like savings that can take us a while to grow. However, setting aside small amounts now and slowly increasing the amount will help kick-start your journey. This may seem boring, but a savings challenge like the 52 week one can help build your fund. With this challenge you can simply put £1 in on week one then increase it by £1 each week, by the final week you'll be saving £52 which will leave you with an impressive £1,378 by the end of the year. Using the Barclays Savings Goal tool can also help you keep track of your progress and make sure that your savings are separate from your main account, so there's no chance of you dipping into it by mistake.
Looking to save for your dream retirement? Investments can be a great way of getting more from your money according to Clare Francis, Director of Savings and Investments.
If you're saving for any longer term goals – be it your retirement, your children's education or your future financial freedom – then it's well worth considering investing. Over the longer term, stock markets tend to perform better than cash and, while you won't lose money by leaving everything in a savings account, with interest rates where they are, your spending power could fall because of the impact of inflation, so investing some of your money gives you the chance to get it working harder for you. If you're unsure where to start, many banks or and investment platforms offer "ready-made funds" that are based on the level of risk you are comfortable with and which they'll manage on your behalf. If you do decide to invest, make sure you keep some money in cash for your short-term needs – investing is should really only be considered for money that you can put away for at least five years, because stock markets can obviously fall as well as rise, so a longer term approach gives you a better chance of riding out any downturns.
If you'd like to stop counting down until payday, Rob Smith, Head of Behavioural says don't think about giving things up but think about what you will gain from building up your savings.
Spending less feels like cutting back and losing out on things, no wonder then we find it very difficult to reduce our spending. Often we pay for things we don't truly need or value because it's a reoccurring payment or it has become habitual. Before you look at your spending, start with a blank piece of paper and write down all things you think you really want to spend money on, then review this against what you currently 'do' spend money on over the month. This should give you some idea of areas where perhaps you can reduce spending as you wouldn't pay for it today. Write down the amounts you are committing to saving for the future and work out what that value will be over time (say each year), it will feel more rewarding seeing the savings add up to bigger numbers. Another useful tip – if you can, review spending with a friend or family member. A watching eye can often help us make tougher choices we feel are the right ones.
To find out more about the tools available to help support your money management, visit: www.barclays.co.uk/make-money-work-for-you/
This news content was configured by WebWire editorial staff. Linking is permitted.
News Release Distribution and Press Release Distribution Services Provided by WebWire.