Customer relationship management (CRM) systems give sales and marketing teams the tools and insights they need to generate more leads and close more deals. HubSpot and Zoho, two leading CRM providers, promote their platforms to companies based on how their software helps businesses drive higher revenues. In this article, we'll compare these platforms on a number of key factors – including price, functionality and integrations – to help you find the right CRM for your business.
HubSpot vs. Zoho Highlights
To help you choose the best CRM software, let's start with an overview of the HubSpot and Zoho CRM systems.
| Criteria | HubSpot | Zoho |
| --- | --- | --- |
| Starting price | $30 per month (2 users) | $14 per user per month |
| Free plan or trial | Free plan | Free trial |
| Sales and marketing features | Multichannel marketing, lead management, customer segmentation | Multichannel marketing, lead scoring, data enrichment |
| Reporting and analytics | Sales forecasting, attribution reports, shared dashboards | 40+ reports, charts and visualizations, precise analysis |
| Workflows and automations | Custom general workflows, marketing workflows | Easy automations, lead collection and distribution |
| Omnichannel communications | Full email client, social media integration, VoIP and power dialer | Full email client, social media integration, telephony |
| Integrations and apps | 1,000+ apps, extensions, impressive API | 1,000+ apps, unique custom apps, extensive API |
Who is HubSpot for?
HubSpot's comprehensive CRM platform is ideal for companies wanting better results from their sales and marketing teams. The system is feature-packed and provides the levels of functionality and analytics both teams need to improve their performance when it comes to attracting and converting leads. With its custom automations and 1,000-plus plug-ins, the software is flexible enough to fit the exact needs of your business. 
This powerful and sophisticated platform has a simple interface, user-friendly controls and a very shallow learning curve, so your staff will understand how to make the most of the program in no time. HubSpot can help drive sales for any business, but it really comes into its own for midsize to large companies with more complex and dispersed internal structures.
Read our full review of HubSpot CRM to learn more about the system's ease of use, customer support and more.
Who is Zoho for?
Zoho provides a highly adaptable, intuitive CRM with outstanding reporting features, workflow automations and AI integration. While it lacks the depth of features HubSpot has, what it does have is powerful, intuitive and smart enough to help smaller businesses drive more leads and sales from their sales and marketing teams. 
Your marketers will love how easy it is to promote your business on social media, email, online advertising and more from this one platform. Meanwhile, your sales team will love how Zoho helps prioritize leads, reduce paperwork and enrich contact data. If you want the system to go beyond its native capabilities, there are more than 1,000 integrations to choose from in the vendor's app store. With the top plan costing $52 per user per month, Zoho is ideal for revenue-chasing small businesses.
Read our full review of Zoho CRM to find out about implementation, customer service options and more.
HubSpot vs. Zoho Comparison
When we evaluated the HubSpot and Zoho CRMs, we found a number of notable similarities and differences.
Pricing 
HubSpot
| Tier | Base cost per month based on minimum user amount | Minimum users | Feature summary | Additional user cost |
| --- | --- | --- | --- | --- |
| Free | $0 | 1 | 2,000 emails per month, live chat, SEO recommendations | N/A |
| Starter | $30 | 2 | 1,000 record properties, 10 dashboards, 25 active lists, 2 deal pipelines, form automation, email retargeting, document storage, sales automation and sales content analytics | $25/user |
| Professional | $1,600 | 5 | Everything in the Starter level, plus SEO analytics, customer reporting, A/B testing, dynamic personalization ($3,000 onboarding fee) | $100/user |
| Enterprise | $5,000 | 10 | Everything in the Professional package, plus 10,000 marketing contacts and a wide variety of additional tools ($6,000 onboarding fee) | Custom quote |
HubSpot's entry-level Starter plan is excellent. However, to get the best use out of the platform, you'll need to subscribe to the Professional or Enterprise package so you can really benefit from HubSpot's advanced suite of sales and marketing functions. Likewise, the vendor's app store is excellent, but many of the really useful apps come at a cost. 
There's a $3,000 onboarding fee for Professional clients, and that fee goes up to $6,000 for the Enterprise level. Watch out for other add-on expenses, like WhatsApp conversations, transactional emails and API calls.
The Starter tier allows month-by-month payment but will cost 20 percent more if you don't commit to a year. With the Professional or Enterprise plan, you have to pay annually upfront. 
Zoho
| Tier | Cost per user per month | Feature summary |
| --- | --- | --- |
| Standard | $14 | 250 marketing emails a day, lead scoring, automation workflows, multiple pipelines, sales forecasting and 1GB storage |
| Professional | $23 | 500 marketing emails a day and everything in the Standard plan, plus custom links, unlimited custom list views, workflow blueprints and Google Ads integration |
| Enterprise | $40 | 1,000 marketing emails a day and everything in the Professional level, plus custom modules, AI-powered insights and advanced analytics |
| Ultimate | $52 | 2,000 marketing emails a day and everything in the Enterprise tier, plus enhanced storage, advanced customer support and 5GB storage |
Zoho's Standard package is full-featured and should be more than enough for smaller businesses. If you want more tools, the higher-tier subscriptions are competitive with HubSpot and most other CRMs. The vendor doesn't charge setup or onboarding fees either.
As with HubSpot, many of the third-party apps that add functionality to the Zoho CRM cost extra, so bear that in mind when evaluating the bang you'll get for your buck. There's a free 15-day trial on all subscriptions except Ultimate, where you instead get 30 days to put the system through its paces to ensure this is the right solution for your business.
Winner: Zoho
Zoho's lack of onboarding fees and cheaper pricing means it wins this round. Furthermore, while both CRMs have inclusive email marketing tools, HubSpot is more restrictive on whom you can send emails to. Your money is more likely to go further with Zoho.
HubSpot isn't the only CRM provider to offer a free plan, as you can see in our review of monday CRM.
Sales and marketing features 
HubSpot
Marketing platform: We like how HubSpot brings email, phone, SMS and social media campaigns onto one screen. This allows you to streamline your various marketing activities. You can also access a Google Ads plug-in and SEO tools, which are great for ranking higher in searches.
Lead management: You get 36 customizable sales and marketing automations out of the box so that you can keep track of all your interactions with customers. The document-sharing tool is also very useful, as it shows when recipients open PDFs and how many times they viewed them.
Customer segmentation: We highly rate the range of customer segmentation and dynamic list tools in the HubSpot program. You can create groups to send tailored content to based on their past interactions, psychographics and demographics. We also like the dynamic list feature, which automatically moves contacts on and off your "hot list" depending on their actions.
The marketing results dashboard in HubSpot provides insights into your leads. Source: HubSpot
Zoho
Marketing platform: Like HubSpot, you can launch email, telephone, social media and SMS campaigns, as well as Google Ad campaigns, from the Zoho CRM dashboard. We found the Twitter listening function impressive in finding opportunities to engage on the social media site based on triggered keywords.
Lead scoring: We appreciate the intelligent lead scoring system on Zoho. You assign different levels of importance to variables like job title, industry and location. The system then keeps score on the quality of every lead. You can also set up different lead-scoring metrics for each individual department or product.
Data enrichment: We appreciated how Zia, the platform's AI assistant, searches the web to populate a lead's contact details to help sales representatives understand prospects better. Zia also merges duplicates to keep your database clean.
Winner: HubSpot
Both platforms have comprehensive sales and marketing tools that are advanced, genuinely valuable and completely customizable. However, HubSpot wins this category for its advanced SEO features, ready-to-go marketing automations and excellent segmentation options.
Zoho CRM is one of several business software products sold under the Zoho brand. Check out our Zoho Books review (accounting software) and Zoho Assist review (remote PC access solution) to learn about other platforms that may be of service to your business.
Reporting and analytics 
HubSpot
Sales forecasting: We were pleased by how the program's pipeline management feature shows how many deals each sales representative has out. It also shows you how likely each one is to close so your salespeople can better prioritize which deals they work on.
Attribution reports: Your marketers can uncover which type of content works best by measuring which campaigns get the desired result, like a website visit or white paper download.
Shared dashboards: We like how managers and reps can share their customizable dashboards with one another to work more closely on improving metrics like average deal size, win rates and time to close. Sales and marketing teams can also share their dashboards, which helps them collaborate better on future campaigns.
Zoho
Wide range of reports: We were happy to see Zoho's 40 customizable reports, which track a wide variety of sales and marketing metrics. You can also combine reports for deeper insights and quickly turn them into PDFs and other document types for sharing.
Striking charts: The graphs and charts available on the Zoho CRM platform are excellent and make spotting performance trends much easier. We appreciate how much control the system gives you over everything from chart colors and types to inputs and benchmarks.
In-depth business analysis: Zoho provides an accurate 360-degree view of your company. You can run a variety of analytical exercises (including quadrant, anomaly detection, cohort, comparative, cohort and KPI studies) to examine performance on everything from conversion rate success to movement through the sales funnel.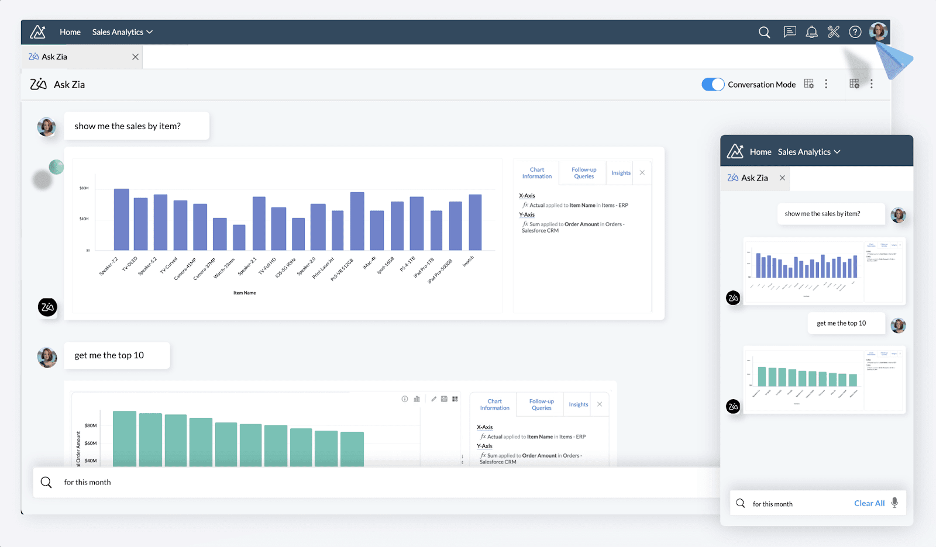 Using the Zia AI assistance, you can create charts in Zoho by asking questions as if you were talking to a chatbot. Source: Zoho
Winner: Zoho
The Zoho CRM is better for sales and marketing reporting and analytics because of its highly customizable reports, great data visualizations and the sheer scope of analyses you can run. That said, HubSpot's reporting and analytics should be enough for most businesses.
Workflows and automations 
HubSpot
Easy-to-add automations: We really like the intuitive drag-and-drop workflow automation tool in the HubSpot CRM. Amend one of its customizable templates, or build your own workflow from scratch to better manage your contacts, deals and tickets.
Streamlined marketing workflows: Customize HubSpot's prebuilt marketing workflows to automate tasks like sending a personalized welcome message to a new lead while adding the prospect to the database and a rep's contact list.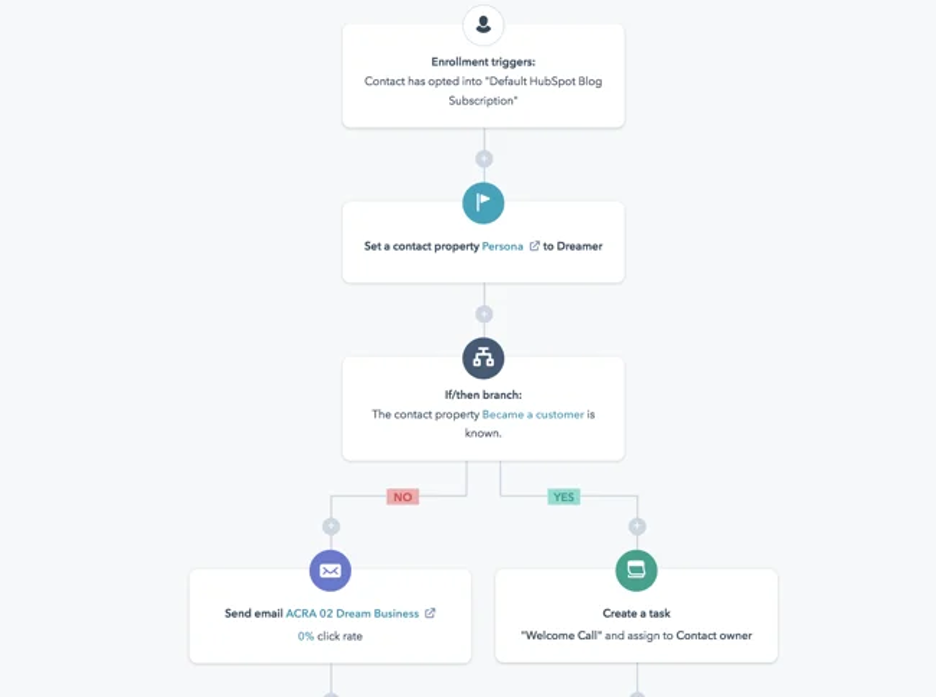 The intuitive drag-and-drop automation builder in HubSpot lets you develop custom workflows. Source: HubSpot
Zoho
Adaptable workflows: You can easily automate what happens when new leads arrive in your pipeline and when they move to different deal stages with the Zoho CRM. We were also very impressed by Zoho Flow, a Make/Zapier-like tool that has hundreds of prebuilt workflows so it can seamlessly connect to other apps like Mailchimp, Slack and Google Drive.
Lead collection and distribution: We like how Zoho captures prospects' contact details from emails, web forms and chatbots, and puts the information in its database. You can get the system to pass the lead onto a particular team or person based on its content.
Winner: HubSpot
HubSpot beats Zoho on workflows and automations thanks to its wide range of prebuilt general workflow and marketing automations and how easy they are to customize. Zoho is close behind, however.
Omnichannel communications 
HubSpot
Email client: We love how fast and intuitive the HubSpot CRM email client is, and we found the customizable templates helpful. We really liked the program's shared inbox, which managers and co-workers on different teams have access to; it really helps inter- and cross-team collaboration. You can connect the platform to any existing Outlook, Gmail or SMTP/IMAP address.
Multichannel interactions: HubSpot has excellent telemarketing capabilities for any outbound campaigns you want to run. It's also great for making and receiving phone calls as well as using chatbots, SMS, MMS and private messaging apps like WhatsApp.
Social media: HubSpot integrates really well with Facebook, Instagram, Twitter and other platforms for direct conversations with prospective and existing customers.
Zoho
Email client: Zoho CRM's email client is user-friendly and feature-packed. Connecting it to existing Google, Outlook and SMTP/IMAP email addresses is easy. You also have a wide selection of professional email templates you can customize.
Social media: We really like how seamlessly the platform connects to multiple social media platforms so your agents can respond instantly to customer requests and questions immediately.
Multichannel platform: Like HubSpot, you can deal with customers directly through multiple channels within the Zoho system, including web chat, video, SMS, phone, email and WhatsApp.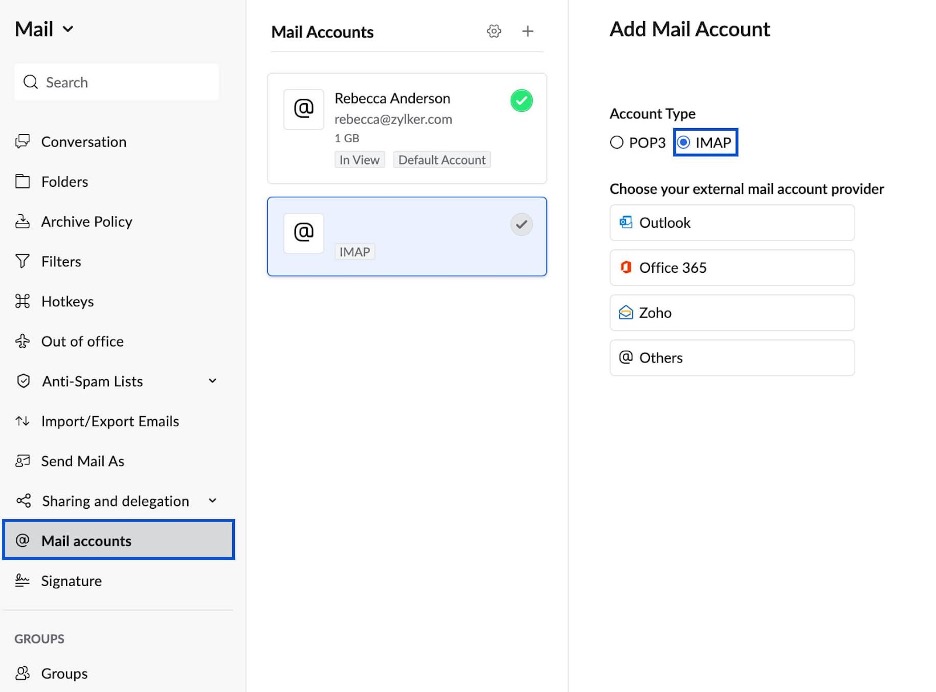 You can send and receive emails from within the Zoho CRM platform. Source: Zoho
Winner: HubSpot
HubSpot and Zoho are both superb for multichannel engagement with clients, allowing you to communicate with leads and customers across a variety of methods, but all through a single software solution. However, HubSpot wins for its shared inbox, which allows team members from across your company to more easily come together to serve customer needs and solve any problems.
Don't overlook the importance of the telephone in closing deals. A Turtl survey found that 27 percent of B2B sales professionals consider the phone the best channel for booking meetings.
Integrations and apps
HubSpot
Large marketplace: There are over 1,000 plug-ins available for the HubSpot CRM, many focused on sales and marketing. Others range from finance and e-commerce tools to customer service and productivity apps.
Extensions: HubSpot also has a wide range of helpful webhooks and synchronization tools. They make transferring data in and out of the platform to other business software easy.
Impressive API: We appreciate HubSpot's extensive API and its comprehensive documentation. These help you achieve tight and precise customizations in key areas like web analytics and automations.
Zoho
Large marketplace: You can choose from over 1,000 integrations in 12 categories, covering sectors like automotive, tourism, retail, legal and software development.
Custom apps: We like the wide selection of "Custom Apps" in the Zoho marketplace. They have very specific uses, like church management, office cash expense management and gym management. Most are free; only seven of the apps cost money.
Extensive API: We were impressed by the Zoho API interface and the vastness of the supporting documentation. These are valuable for customizing the Zoho CRM to your company's liking.
Winner: HubSpot
Both vendors' app stores are great, and we thought the custom app selection on Zoho really stood out during our review. However, HubSpot wins for its better API, specialty sales and marketing apps, webhooks, and data syncs.
HubSpot vs. Zoho Summary
Zoho and HubSpot both have the CRM tools you need to drive revenues, but having reviewed both, we think the right system depends on the size of your business.
HubSpot is best for midsize and large businesses wanting better results from their sales and marketing teams.
HubSpot CRM's sales, marketing and collaboration tools make it the best choice for larger companies. With this solution, you can give your marketers the ability to run complex, multichannel, segmented campaigns from one dashboard. Better still, the collaboration tools allow your sales and customer service teams to share their insights, knowledge and experience with your marketers. This gives them the extra details they need to make your messaging more relevant and engaging on future campaigns. And whatever team an agent is on, they'll have much more time to be creative and productive thanks to HubSpot's workflow automations.
Zoho is best for smaller businesses wanting better results from their sales and marketing teams.
The Zoho CRM has all the functionality small businesses need to boost revenues through improved marketing and higher lead conversions. The omnichannel marketing suite and communications tools within the Zoho platform are intuitive and powerful. Your marketing team will love the campaign analytics features and your sales reps can take great advantage of the data enrichment and deal-stage tools. Thanks to Zoho's time-saving and customizable workflow automations, your agents will have more time to dedicate to other tasks that require their expertise and attention. This solution is also priced well for small companies.
FAQ
Is Zoho or HubSpot better?
Open row
Zoho and HubSpot are excellent CRMs for driving new leads and sales for a variety of businesses. The better solution will depend on your company's size. Both CRMs share many features, but HubSpot's advanced tools make it more suitable for midsize to large businesses. Zoho costs far less and is still very capable, with more than enough functionality for small and midsize businesses.
Why is Zoho so popular?
Open row
Zoho has grown a lot in popularity in recent years because of its full range of CRM features, how easy they are to use and, compared to rival platforms, how affordable they are.
Is Zoho the same as HubSpot?
Open row
No, Zoho is not the same as HubSpot. Zoho and HubSpot are separate CRM systems from different software providers. While they have many features in common that help sales and marketing teams improve their performance, they are different products with slightly different use cases. Zoho is aimed more at small businesses, while HubSpot is more for enterprise businesses. Some of their specific tools and capabilities vary as well.
Is there a better CRM than HubSpot?
Open row
While HubSpot is a market-leading CRM, whether there is a better CRM out there for your business depends on your company's needs. HubSpot is feature-rich but can be costly, especially if you don't need all of its tools. A better CRM might be one that is more budget-friendly for the features you need.