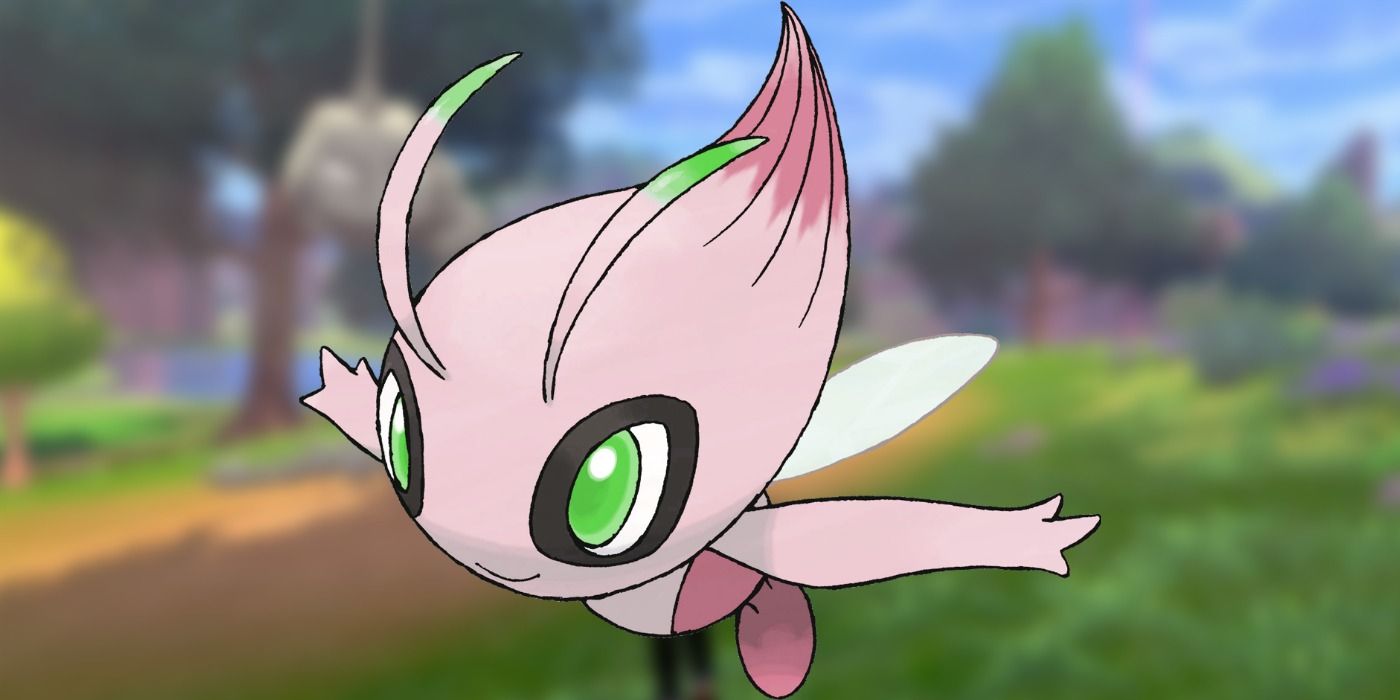 Shiny Celebi is being distributed in Pokémon Sword & Shield to celebrate the release of the Jungle Movie. Here is how players can claim it.
Shiny Celebi is finally making its way over to Pokemon Sword & Shield. This mythical Pokemon is amongst one of the rarest to exist in the series. Originally making its debut in Pokemon Gold and Silver, players were only able to obtain Celebi through a special event that unlocked the GS Ball item. It has appeared in multiple mainline titles since then, but its Shiny form has been reserved strictly for Pokemon Go, until now.
This event is finally happening to celebrate the release of the newest Pokemon movie, Secrets of the Jungle. This film is finally getting its English dub for a Netflix release this upcoming October. The film features the Forest of Okoya, a Pokemon paradise that is forbidden to outsiders. Koko, a human boy who was raised by the Mythical Pokemon, Zarude finally meets his first human with an encounter with series veteran, Ash Ketchum. This film is the introduction of Zarude in the Pokemon series. The film also features a Shiny Celebi that acts as the guardian of the forest.
Related: Pokémon Sword & Shield: 6 Best Areas To Explore For Fire-Types
To celebrate the release of the film, players will be able to claim this Shiny Celebi for their own. The Celebi itself will be level 60 with the ability Natural Cure and the moves Magical Leaf, Future Sight, Life Dew, and Heal Ball. Here's how players can claim this legendary Pokemon.
How To Get Shiny Celebi in Pokemon Sword & Shield
To claim this legendary Pokemon, players will need to sign up for the Pokemon Trainer Club newsletter,r and opt into email marketing by September 25th. After the deadline, players will receive a special email with the passcode to claim the Shiny Celebi. To claim it, just boot up Pokemon Sword and Shield and head over to the pause menu. Select the Mystery Gift option, and claim the code that was provided in the email. Players will then be treated to a short animation of Shiny Celebi's arrival. Players can now add this legendary Pokemon to their collection.
Zarude will also be making its way to Pokemon Sword & Shield through similar methods. This will be the first time this Pokemon has made its debut officially within the United States. It was extremely exclusive in the past since it was only released across seas. Now, players from all around the world can have their own Zarude and Shiny Celebi.
More: Pokémon Sword & Shield: 10 Best Areas To Explore For Dark-Types
Pokemon Sword and Shield are available now on the Nintendo Switch.
Mask Writer Claims Dark Horse Adapted His Work Without Telling Him
About The Author

Sky Flores
(2136 Articles Published)

Sky Flores is a writer and game player based out of New York City. His hobbies consist of creating content on YouTube and streaming video games on Twitch. His online alias is @SkywardWing.
More From Sky Flores